I love classic trucks and in my 3 plus years of bogging in this field I haven't done much on trucks. Yes, you'll see some in my Parking Lot Spot Light pieces but not much else.
Then I got to thinking about doing some articles to make up for that and I realize, after I picked up a book ("Collectible & Classic Trucks" by The Auto Editors of Consumer Guide) at one of my company's stores (we specialize, among other things, used books) that even those in to the classic truck scene, often over look some really cool trucks.
So I thought I'd cover a few.  First up is one I forgot was ever made, much less have seen (in person) any in the past 20 years or so.  The Covair Rampside trucks.
This are rear engined, air cooled workhorse that are clearly Corvair all the way.
Fully restored they look great.  But leaving them survivor style is really cool as well. Like David Hopkins'
These rough and tough working guy trucks were powered a by rear-mounted, horizontally-opposed six cylinder, air-cooled engine that delivered 80HP and 128 ft-lbs of torque with 145 cu-in of displacement.
This wasn't the only truck that was Corvair based.  We'll look at the others coming up.
Thanks for reading
Tim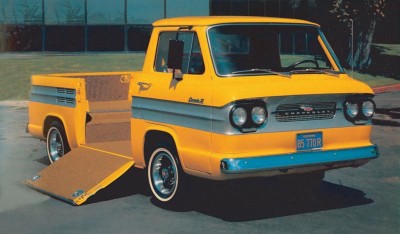 Chevrolet Greenbrier
A
Corvair
truck
could be ordered as a "Loadside" or "Rampside". The Loadside was essentially a pickup
truck
with a standard tail gate.
…