Are 'Vette owners more extreme about their cars than most? | Corvetteforum.
Sharing this from the Corvette Forum.
After you read this you might think, Corvette drivers are … well….Richard Craniums… but I think this is an issue with any car person with a car they love.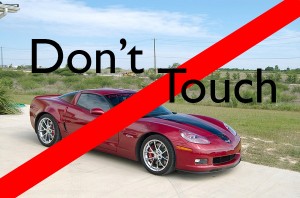 My wife is like that with new cars – Nissan and two Lexus brand cars over the years.  I've been less so, I think with my '70 Mustang (now going to a large collector) and my two Corvettes (C4 and C6) – well maybe not.
But generally I don't make people take their shoes off before getting in my car.  No smoking of course and eating and drinking are fine.  Spills will get you tossed out at the next stop however.
Got "Not in my car!!!" moment?  Share it here.
Thanks for reading.
Tim

I love the unwritten rule that #Corvette drivers wave to each other on the road. Can't wait to have my one one day. #ThanksMom
Study Shows Chevy Corvette Drivers Among Safest | Chevy …
Corvette convertible drivers among the safest, study shows. We all know Chevy Corvette drivers are passionate about their cars. One clear indication of this is how safe they are when it comes to their driving – well, some may …